There are a wide variety of attractions near Lake Keowee such as enthralling Clemson University Athletics and Off-Broadway Theater in nearby Greenville.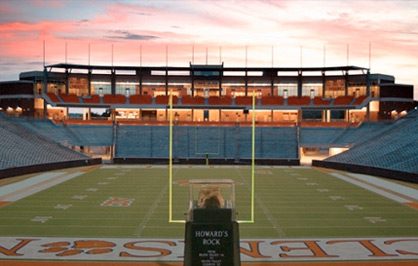 Clemson University is one of the greatest attractions near Lake Keowee.  The Clemson Tigers take to the fields and courts every season and offer great spectator opportunities for alumni and non-alumni alike.  The world-class university also offers a rich variety of educational and fine arts performances and activities for the general public.

Great performances are even better at The Peace Center. Architecturally and acoustically it is an amazing place to see a show! In fact, many of the world's top performers look forward to returning again and again, and consider The Peace Center one of their favorite places to play.  Located in Greenville, the Peace Center is just about an hour from anywhere on Lake Keowee.
Only about sixty minutes away from Lake Keowee, Greenville, SC offers dining, shopping and entertainment second to none. With world class restaurants, arts and entertainment, green spaces and activities, you're sure to never be bored in this vibrant, growing city.

Check out our Lake Lifestyle blog!
Waterfall Hiking Trails:
The Upstate has much to offer in the way of natural beauty. There are countless trails and waterfalls for you to enjoy and get in tune with nature.