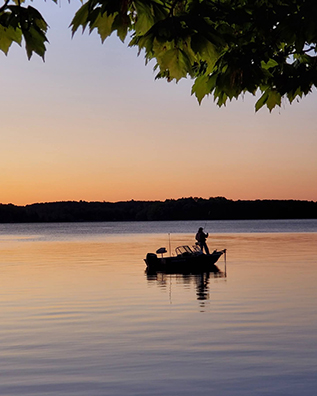 Folks who love to fish don't let the cold days of winter keep them from enjoying their time on Lake Keowee in upstate South Carolina.  This beautiful clear water reservoir is home to a wide variety of fresh water fish. You are likely to find spotted and large mouth bass, crappie, bluegill, and catfish.  Red-eye and small mouth bass can also be found in some areas of the lake.
The Carolina Sportsman highlights advice from fishing expert guide Buster Green, who has fished on Lake Keowee since it was first filled some forty years ago.  He recommends a number of areas on Keowee to find the best fishing experience, including the Jocassee Dam, Highway 11 bridge, Cedar Creek, Cowee Branch, and the "Hot Hole," a place that is particularly good in the winter because it is located where the nuclear station regularly disperses warm water.
Green also recommends the skimmer wall located near the 'hot hole," spots under the power lines that cross Lake Keowee, Little River Dyke, Island 2B, and Webb Lake, known to Lake Keowee fishermen as "The Pond."
Put on the warm jacket and gloves, and set out on your winter fishing adventure on Lake Keowee, one of the best fishing spots in the upstate! Interested in Lake Keowee real estate?  Give the Cason Group a call today at 864-903-1234.