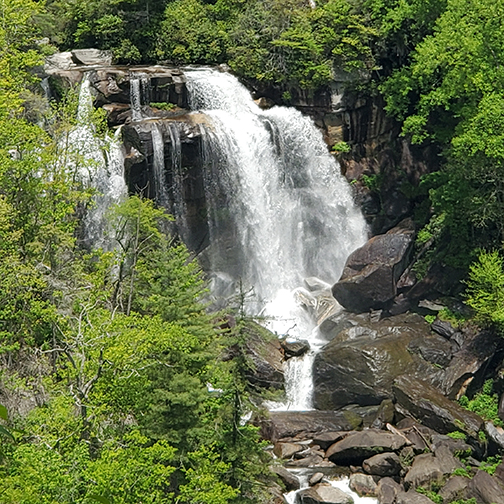 On a beautiful, crisp winter day, when the waters of Lake Keowee are too cold for swimming or boating, you can enjoy a pleasant day hiking or walking to numerous waterfalls located in Oconee County, SC., located near beautiful Lake Keowee real estate. There are many guides to the locations of these waterfalls, including The Waterfalls of South Carolina, by Benjamin Brooks and Tim Cook.  This particular guide provides great information about thirty-one falls in Oconee, Pickens and Greenville counties, the difficulty and length of each hike, and directions to the waterfall location.  Stunning photography throughout the book will motivate you to travel with your own camera in hand.
Four Oconee County waterfalls near Lake Keowee's real estate that you may want to visit include Issaqueena Falls, Station Cove Falls, King Creek Falls, and Spoonauger Falls.
Among the most popular Oconee County waterfalls, Issaqueena Falls is an easy,15-minute, .02 mile hike to view the 100 foot cascade.  The trail will take you through some beautiful greenery, and you will find much to explore in this gorgeous environment. Also located in the area of these falls is the historic pre-Civil War Stumphouse Tunnel, rich with its own history.
A short drive from Issaqueena Falls is Station Cove Falls, a stepped, sixty-foot waterfall. Take an easy 30-minute hike through a lush and beautiful environment, and prepare to look in wonder at this spectacular waterfall.  It is especially beautiful in winter when the water may turn to ice.  Station Cove Park also includes a military fort and residence built in 1792 to protect settlers from the Cherokee Indians.  Check with the Station Cove Park for visiting hours for these sites which are listed on the National Register of Historic Places.
King Creek Falls trail is a moderate 30-minute, half-mile hike which begins near a trailhead for the Chattooga Trail at Burrell's Ford.  You will walk through some beautiful vegetation, alternating from ridge to riverbank on your way to this special waterfall.  You can easily reach this beautiful waterfall anywhere from your Lake Keowee real estate.
Another popular Oconee County waterfall is Spoonauger Falls (also known as Rock Cliff Falls).  Located in the Ellicott Rock Wilderness Area, just off the Chattooga Trail, you will walk for twenty minutes through some gorgeous wilderness areas taking you to the mountain. As you look carefully at the falls, you may notice bats sleeping in the crevices of the rock.
To view available real estate on Lake Keowee, visit our website, or call The Cason Group at 864-903-1234.