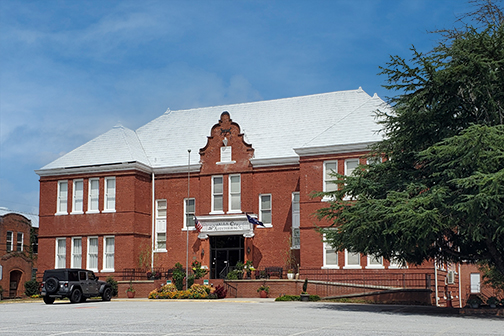 You don't have to travel far from your dream home on Lake Keowee to enjoy top entertainment by performers like Chi Town Transit Authority, the Gatlin Brothers, or Lorrie Morgan at Walhalla Performing Arts Center.  The center was built as an elementary school in 1903, and an auditorium was added in 1913.  But once it was no longer useful as a school, the beautiful building lay dormant until 1993, when a group of citizens decided to restore it and turn it into a first class performing arts center.  The Walhalla Civic Auditorium is now listed on the National Registry of Historic Places.
The performing arts center will be hosting an impressive list of upcoming acts, including The Black Jacket Symphony, the Redneck Tenors, Jon & Remo—the Comedy Guys, and Shovels and Rope.   You can also hear tributes to AC/DC, The Allman Brothers and Linda Ronstadt, or enjoy the music of Mo Pitney, Wynonna Judd, or the Bellamy Brothers.  You might choose to spend an evening with James Gregory, Crystal Gayle, or The Platters. The list of upcoming performances and tickets can accessed here.
As you head to the show at the Performing Arts Center, take a few minutes to drive around historic Walhalla.  This charming town is home to historical homes, churches, and a variety of cafes, and shops where you just might find the antique table or beautiful accessory that will complete the décor of your lake home.  Plan to eat dinner before the performance at one of the lovely restaurants in town, or relax after the show at a local wine bar.
In accordance with South Carolina Governor's orders, Walhalla Performing Arts requires face masks for all people attending WPAC events.
Get your tickets today, and enjoy rich entertainment in a beautiful auditorium!  And while you are waiting for the show to start, check out the Cason Group website and give us a call if you are interested in buying or selling property on our wonderful lake area!