Oconee County, South Carolina
Located less than 20 miles from Clemson University, Lake Keowee and neighboring Lake Jocassee are surprisingly quiet. While the college students stick to Lake Hartwell, Keowee and Jocassee draw a more adult, if not affluent, crowd.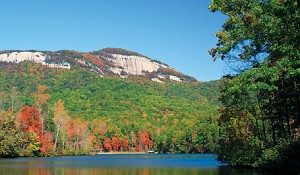 The region sits at the edge of the Blue Ridge Mountains, and has become a bull's-eye for boaters  and fishermen wanting to relocate from up north or from down south.
It's proximity to Greenville, SC makes it an ideal location, embracing both the quiet and the cosmopolitan environment, so important to retirees.
A plethora of lake side communities of varying cost provide a substantial range of price points to enjoy all
the area has to offer.
About three-quarters of the houses on Lake Keowee are summer homes, but developments like the Cliffs. the Reserve and Keowee Key,  have successfully made the lake a more permanent home for many.
"The developers are trying to make it into another Lake Lanier [fusion_builder_container hundred_percent="yes" overflow="visible"][fusion_builder_row][fusion_builder_column type="1_1″ background_position="left top" background_color="" border_size="" border_color="" border_style="solid" spacing="yes" background_image="" background_repeat="no-repeat" padding="" margin_top="0px" margin_bottom="0px" class="" id="" animation_type="" animation_speed="0.3″ animation_direction="left" hide_on_mobile="no" center_content="no" min_height="none"][Georgia]," says Nate Ellison, general manager of Lake Keowee Marina."
For the time being, the minimal crowd makes it a natural for the top 10.
Scorecard (scale of 1-5)
Waterfront Availability: 5
Ease for Boaters: 4
Strong Boat-Related Business: 3[/fusion_builder_column][/fusion_builder_row][/fusion_builder_container]